(Originally published in Huffington Post India)
Most popular big budget films in recent times have invited discussions on the question of women, be it the feminist utopia in Mad Max or the absence of female minions in the eponymous film or Black Widow's limited characterisation in the latest Avengers movie.
Keeping in line with the trend, SS Rajamouli's magnum opus Bahubali: The Beginning has also attracted similar criticism. Critics lambasted the film for leaving no space for female characters to develop and held it as an example to show how Telugu cinema is stuck in a medieval past. "Masculinity-porn", sexist and "testosterone-heavy epic" were some of the phrases used to describe the film.
"The sequence in which Avantika is disrobed isn't one that degrades her but instead brings her face to face with her feminine (feminine isn't a derogatory word, critics!) self."
While I think deconstructing gendered representations in films is something to encourage, these readings are nowhere close to my experience of Bahubali.
Critics are most upset by the sequence which involves Avanthika's (played by Tamannaah) skillful disrobing by Shivudu (Prabhas) and have dubbed it as symbolic of rape culture in India. By their logic then, would one say that in the sword fighting sequence in The Mask of Zorro (1998) where the losing Zorro cuts off Elena's dress to maneuver the situation, the masked man rapes the woman? Forget the audience, even the two actors confessed that the scene had turned them on. And we do see Elena wanting more of what Zorro leaves unfinished. What a marked polarity in interpretation, won't you agree?
Are we, in the name of feminism and women's empowerment seeing even playful courtship as violation? If anything, Avanthika's character isn't that of the conventional, cowed-down female lead we meet so often in our films. The sequence in which she is disrobed isn't one that degrades her but instead brings her face to face with her feminine (feminine isn't a derogatory word, critics!) self. With this knowledge of self, she can now channel her sensuality in a way that could enhance her skills as a warrior. But unfortunately, she breaks her leg and is, therefore, unfit for an immediate mission. So then would you say that she is simply a device to catapult Shivudu into the main plot? But then in a work of art, who isn't a device and so we can very well reduce the narrative elements in Vladimir Propp's 31 plot components and end the discussion.
Sivagami (Ramya Krishnan) and Sanga(Rohini) are two other female characters who show that Bahubali is neither simply unabashed machismo nor only spectacular visual effects, but a movie based on a well thought through plot presented in the most ravishing fashion.
During its pre-production phase, the producers of the film came up with a poster featuring a portrait of Sivagami dressed regally, determination and strength writ large on her face. We meet her in the very first scene as she kills two soldiers to deliver the child (Bahubali Jr/Shivudu) to a safe abode. The opening act reminds one of Vasudeva of Mahabharata carrying the infant Krishna amidst torrential rain, only that Sivagami is a woman and a mother.
But while the Mahabharata never considers Gandhari's (wife of the blind king Dhritrashtra) claim to the throne, it is not difficult to accept Sivagami's ascendance to power in the absence of an adult male heir in the story. Though she refuses to sit on the king's throne, for all practical purposes it is she who presides over all the royal affairs. Later we see that the voice that summons Katappa (played by Satyaraj) when faced with dissent is not that of a helpless woman crying for help, but that of an authority which commands obedience. Following this, quite artistically, the camera stays on the evocative image of Sivagami, the queen mother, sitting on the throne with the two crown princes tucked in her sari.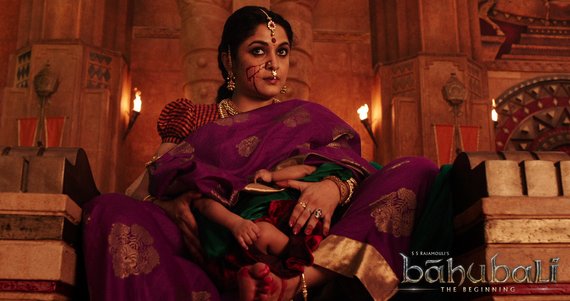 And so, even if the story of the film seems to be an old one, the characterisation of women never slips into stereotypical spaces. In executing her duty as the nurturer Sivagami does not become any less of the powerful matriarch that she is or vice-versa.
The sheer adeptness with which the female characters shift gears while playing "masculine" and "feminine" roles and the way the immediate society seems to accept it as natural calls for some praise.
Similarly, Sanga (foster mother of Shivudu) who seems helpless in front of her child's whims and who takes to superstition and blind faith is the one whose decision prevails in the tribe/village. Her power does not simply come from being the chief's wife, because she is shown to dominate her husband at various instances to the extent that he is somewhat fearful of her.
"In executing her duty as the nurturer Sivagami does not become any less of the powerful matriarch that she is or vice-versa."
And here, let's go back to the character of Avanthika who is also important because she brings out the complex relation between masculine and feminine attributes at play in the entire movie. Her character develops as she learns to strike a balance between her female beauty and desire (caught in the use of word shringaar') and to gather it all when duty, i.e., warfare calls.
Viewed from this angle, it seems that the major male characters remain one-dimensional and hardly have a scope to develop beyond displaying their puffed-up chest and biceps. But is that a fault of our perception? Isn't Shivudu also the gentle lover who plays the artist when he draws beautiful patterns on his beloved? Isn't Bahubali's claim to the throne not also based on his love and compassion for the masses and his knowledge of shastras?
Isn't Katappa shifting gears too, juggling with many roles? While he is, for the most part, the loyal and invincible soldier and protector of the kingdom and royal family, isn't he also the subaltern narrator of the tale?
There are so many dots suspended in the world of the movie waiting to be joined together to form numerous narratives or sub-narratives. And why shouldn't it be? After all, an epic saga of a family feud that involves the entire kingdom and goes on for generations is bound to produce a gamut of diverse responses and interpretations. But until we revisit our Mahabharata, let the film remind us that in the game of thrones women have larger roles to play.[/fusion_builder_column][/fusion_builder_row][/fusion_builder_container]